Welcome to Lawson Tire & Automotive - Austin, TX
High quality customer service for you and your automobile should not be hard to find – but it often feels that way, doesn't it? At Lawson Tire & Automotive, your Austin auto repair needs are efficiently served with the promise of guaranteed quality and fair prices.
Our ASE-certified mechanics, outstanding customer service and the highest quality auto repairs for a fair price offer you a distinct advantage in Southwest Austin. We take pride in providing honest auto repair services. We've been a trusted member of the Austin community for several years and we want to keep it that way.
We know how important your vehicle is to you, and we take your personal safety seriously. We'll help you keep your vehicle running smoothly for many years to come, and we'll be here when you need us down the road.
Call to discuss your auto repair needs or set up an appointment at (512) 288-5022.
Since 1991, Lawson Tire & Automotive has been providing high quality auto repairs for the Austin, Oak Hill, and Dripping Springs areas. Lawson Tire & Automotive works on all makes and models, both foreign and domestic. Still wondering why you should come to us for auto repairs in Austin, instead of going anywhere else? Some simple reasons to help you make your best choice:
We employ ASE-certified technicians with an average tenure of six years.
We provide a 12-month/12,000-mile warranty on all parts and labor.
We use quality AC Delco parts.
We offer same-day tire installation for all major tire brands including: Goodyear, BF Goodrich, Pirelli, and Michelin.
We honor virtually all extended warranties, so you don't have to return to the dealer and pay their inflated prices.
Mary Tran, a long-standing customer of ours in Austin says, "Lawson Tire & Automotive is where I take my Jeep when major things need to be taken care of or when I simply need a quick answer. I know that I will get their honest opinion & I feel like they look after me – rather than out to get me. I also know that they will do a great job & charge a fair price. My friends are always surprised that I do not go to the shop around the corner, rather I make the effort to do business with those I trust & know me!"
We have also expanded services through our Fastbrake division. When your brakes are not performing as they should, it is not advisable to drive the vehicle. Your safety and well being is of utmost priority for us; so wherever you are in the Austin area, we'll come to you. Let us take care of your brakes wherever you are.
Finally, we have recently expanded our services to include Collision Repair with our sister company, Epps Boddy & Paint. Like Lawson, Epps has been providing quality repair services to the community for over 20 years. Epps is located in the Lakeway/Bee Caves area on Highway 71 just past Hamilton Pool Road.
If you prefer, please stop by our facilities and meet one of our customer service representatives. Look up our location here.
Kim Terracina writes: "My Toyota Sienna minivan's "engine needs service" light lit up. If I had taken it to the dealership, I'm sure they would have found something wrong with it and charged me a fortune. But when I took it to Lawson Automotive they said sometimes the light just goes on. Sure enough, they checked it out and found nothing wrong with it. They are honest guys at Lawson Automotive."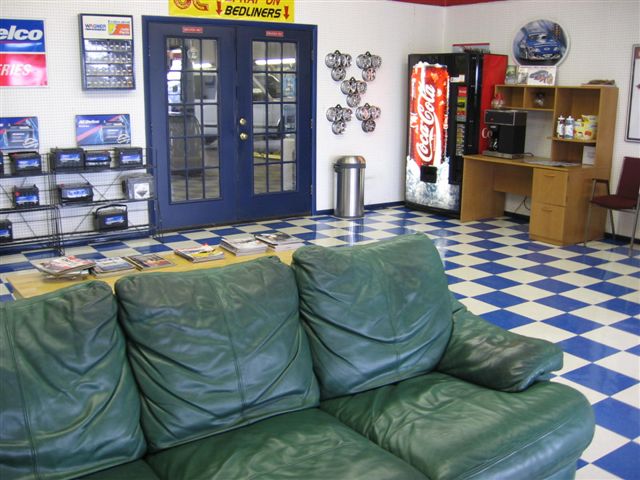 For your comfort, we also provide:
A newly renovated waiting area
Clean restrooms
DSL Internet access – free of charge
Television
Vending machines
and complimentary coffee!
Gerry King notes, "When you have something serious with your car, you want someone who is honest, competent and reasonable. It is a bonus to have friendly staff to deal with. Lawson Automotive is all these. But it is important to me also when it is time for the regular oil change and checkup to have the comfort that competent, honest folks are doing what is needed (and nothing more) and giving the car a thorough checkup. And this is why I go to Lawson for all that my car needs!"
Call for an appointment at (512) 288-5022 or come by our shop anytime.
... and if you're still unsure or not quite convinced, check out our ratings on Angie's list. We recently earned an Angie's List Super Service Award.